Jose Ransome - A Table Tennis Life
One of life's coincidences and a meeting with a lovely lady.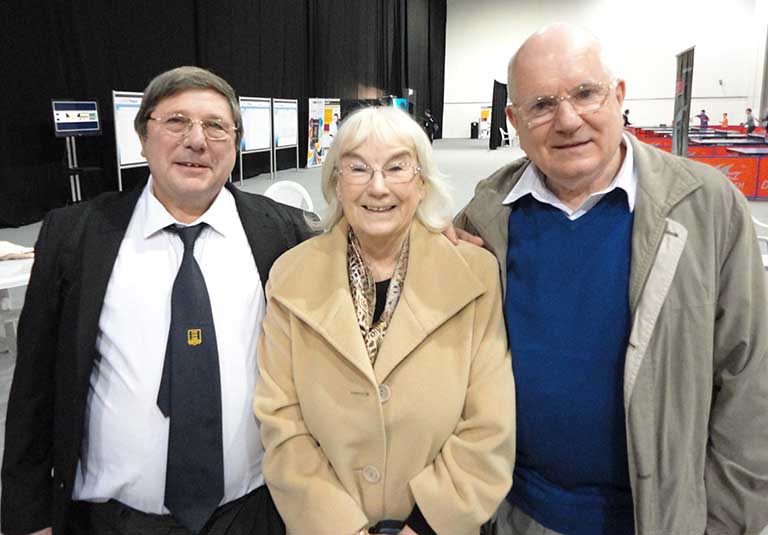 Inky Moss , Jose Ransome and Neil Wheatley
A few weeks ago, a mysterious parcel arrived at my home. It turned out to be a very large bucket of training balls sent with the compliments of Alan and Jose Ransome. It was a week or so later, when the sender, Jose, wife of the former ETTA Chairman and Managing Director of tt equipment supplier Tees Sport, sent me an email, that I discovered that it was a present to Colebridge from Jose, who was fascinated to have discovered that a prominent table tennis club had sprung up on the piece of ground adjacent to her former home in Colebrook Croft….No. 18.
Jose spent her 20 formative years in Shirley and fell in love with table tennis in 1947 when she left Sharmans Cross School and enrolled at Sparkhill Commercial. She joined Birmingham City TTC, then playing at the Friends Institute in Moseley, and later South Birmingham, where she played alongside such famous local players as Ann Haydon. She also played for Nomads, represented Birmingham in the Midland League and was the Birmingham Mail Junior champion in 1948. The famous Birmingham ladies at the time were Jean Mackay, Pam Mortimer, Pat Baird, Marjorie Cumberbach, and her special friends were Pat Gregory and Norah Lally.
Jose married John Tomkins of Streetsbrook Road, Shirley in 1955 and three months later they emigrated to Canada. Here Jose continued her playing career and on one occasion represented her adopted country against the USA. Later she became Secretary of the Canadian Table Tennis Association, and then Executive Director from 1972 until 1976. In 1977 Jose returned to England as Assistant Director at the World Table Tennis Championships held at the NEC in Birmingham, where she renewed her association with the legendary Maurice Goldstein, for whom she had carried out secretarial work in her younger days. She also met and later married Alan and helped him to build up his Tees Sport business and the now famous Ormesby Table Tennis Club, of which she is currently President.
Inky and I were privileged to have a chat with both Jose and Alan at the recent ITTF Pro Tour Finals. Jose said that she knew that a Boys Club had been started (in 1953) on the land at the back of her garden, but only became aware that it had become a table tennis club when she spotted our details on a Solihull website!
It was a pleasure to meet such a kind and friendly lady and to learn about women's table tennis in Birmingham all those years ago. Believe it or not, the Women's League then had more divisions than the Birmingham League has today.
Jose still makes the occasional visit to see friends in Shirley and we have invited her to pop in to our Club next time she is our way, where she is assured of a warm and friendly welcome.
Neil Wheatley. December 2011
Personal Profile - Jose Ransome.
Born- 1933
Place of Birth - Walthamstow, London but relocated to Shirley, near Birmingham when aged
Father's Occupation - Regimental Sergeant Major in the Royal Engineers
Siblings- I brother and 1 sister
Education - Sparkhill Commercial College in Birmingham where trained to be a secretary
Current Occupation - Retired
Marital Status - Married Alan Ransome in 1980
Children - 2 Daughters who were born in Canada

The Interview

When did you first become interested in Table Tennis? - As a family we had always been interested in sports and I can remember listening to the athletics from the Olympics on the radio after the war. I played tennis in my early years and did not start table tennis until I went to Sparkhill Commercial College in 1947. I became very keen and joined the Birmingham City Club at the Friends' Institute on Moseley Road where I learned a lot about the sport from Maurice Goldstein O.B.E., who later became the President of the ETTA. I used to help with his typing and he gave me some coaching. I won the Birmingham Mail competition one year and played for Birmingham in the Midland League. When I went to work I used to save all of my wages to pay for attending coaching courses by Jack Carrington in London and the Isle of Wight. My Mother used to say that I had "table tennis fever". I also played for South Birmingham and the Nomads in the Birmingham League.

So where did Table Tennis take you next? - I had a "gap" year out from Birmingham when I was 18 (1951/2) and went to work in London at an estate agents in Covent Garden and I lived in a YWCA hostel in Putney, so I played table tennis at the Putney Club for the year. Had a wonderful time, playing table tennis there, going to events, going to theatres and to athletics at the White City Stadium.

Back to Shirley and I met my first husband, John, at the local tennis club. We got married in 1955 and emigrated to Canada in 1956. We went from Liverpool on the maiden voyage of the Empress of Britain, stopped to look around Montreal, caught the night train to Toronto, took the streetcar from the station and found somewhere to live, went shopping for food and cooked our first meal in the apartment that evening! My sister and her husband joined us in Toronto after a while, so that was good.

Jose demonstrating her grace and skill in the 1970s

Eventually we got involved in table tennis by meeting people at the Canadian National Exhibition where they held the Canadian Open Championships each year and after that I played in the Toronto and District League and various tournaments around Ontario and Quebec. A lot of our new friends in table tennis became like family because many of them came from other countries like us. I won mostly doubles events, but did play for Canada once against the USA in Chicago. My team mates said," Not so much of the style and smile, you need to win some matches!" I remember winning a great Mixed Doubles with Tim Boggan of the USA in Niagara Falls. Later on I won the US Open Over 40 Women's Singles, in Houston, I think.

I became the Secretary of the Ontario Association, started an Ontario newsletter which eventually became Canadian Table Tennis News. I edited and produced the magazine for ten years and won an award for that from the Canadian Amateur Sports Federation in 1970, signed by the Governor General, Roland Michener. I became Secretary of the Canadian Association in about 1967. I was given the Perc McLeod Award in 1971 for my contribution towards the promotion and development of table tennis in Canada and an Appreciation Award in 1972 from the Scarborough Recreation & Parks in Ontario. In 1967 we had the First Canada Winter Games in Quebec and I played in a film made by the National Film Board of Canada to celebrate the Games. We played at the venue of each different sport, including the ice hockey rink outside the Chateau Frontenac wearing skating boots! We were all involved as a family in the sport and my husband and daughters, Christine and Susan, used to help with events. Susan was a good player and became an International Umpire, officiating at the 1979 Commonwealth Championships in Edinburgh.

What's your most memorable time in Table Tennis? -
My most exciting time was at the time of Ping Pong Diplomacy. The Canadian team had actually been the first team over the bridge into China in 1971 and the Chinese announced that they would visit Canada first on their international tour in 1972. The Executive Director of the CTTA had left and we had no one to organise the event, so I volunteered to go up to Ottawa and take over. Matches were to be held in Montreal, Ottawa, Toronto, and Vancouver which were arranged locally, and I had the job of organising the tour throughout Canada and the match in Ottawa. The match was planned for the local college which would hold 800 people. One day I had a call to go to the Chinese Embassy when they told me that the venue would not be large enough for the numbers who would attend and could I find another venue.

Well, there were no large venues in Ottawa in those days and I did not know the city very well, so what on earth was I to do?. As I walked along the road back to the CTTA office I passed the brand new National Arts Centre, had an idea, went in, asked to speak to the Manager and asked if he would like to host the first ever match between Canada and China. It turned out to be the most incredible evening – 3,000 people including the Governor General, a great match and fabulous exhibition between Zhuang Zedong (3 times world champion) and Zhang Xielin hitting the ball backwards and forwards from the wings of the stage, which brought the house down. Later on in 1974 the Chinese invited our Canadian Junior team to China for a month of training and matches – a wonderful experience.

Left to right - Zhuang Zedong during the Chinese tour in 1972 with Jose and Art Barran President of the Canadian Association at that time
After the Chinese visit to Canada I applied for the position of Executive Director, got the job and worked for four years in Ottawa, being the first woman out of 33 Executive Director positions provided by Sport Canada. It was wonderful. I travelled to every province helping to promote and develop the sport, appointed a Recreation Development Officer because table tennis in Canada was very strong then as a family recreation in home basements. I had been one of the Canadian Delegates at the 1969 World Championships in Munich when the Commonwealth project was discussed, and in 1973 I was the Manager and Delegate for the Canadian team at the Commonwealth Championships in Cardiff and the World Championships in Sarejevo, as well as in 1975 at the Commonwealths in Melbourne and the Worlds in Calcutta. These teams included young coach Adham Sharara and player Mariann Domonkos. Interestingly Adham took over the Canadian position a couple of years later before he moved on to the ITTF. I met all sorts of knowledgeable people and learned a great deal about the sport. We received a lot of help from the ETTA in the early days to set up our coaching and umpires and referees programs, and I used to arrange for the Canadian team to come over to Ormesby for training until we had a national coach. . I left the CTTA in 1976 and was fortunate to get the position of Assistant Director for the 1977 World Championships in Birmingham, working for the ETTA . This was the first time that the Worlds had ever been staged with a centre court set up and drug testing. It was hard work but it went well. Again, a great table tennis learning experience!

Alan and I got together after that and I worked in the business, helped with the Tees Sport tours taking groups to various World and European Championships, worked as a volunteer with my friends at the 1994 Europeans in Birmingham, the 1997 Worlds in Manchester, the 1998 World Veterans and the 2002 Commonwealth Games there and in Melbourne in 2006, plus various Commonwealth Championships since Alan became Chairman of the CTTF.

The Commonwealth Championships Cardiff is 1973. Left to right - Jose Ransome, Gloria Nesukaitis, Violetta Nesukaitis, Sheirle Gero and Mariann Domonkos

Is there anything in particular you feel proud of having achieved in the sport? - My main contribution to the sport in England came in the 1980's when I started the Women in Table Tennis campaign. We had two excellent national conferences and managed to get the Women's British League started, ten years after the men, on the two weekends at a central venue basis, the system later adopted for the Junior British League and the Veterans British League. Things were going well for women at that point and we dropped the Women's Committee, but perhaps this needs to be reinstated now. I received the Maurice Goldstein Award in 1999, which was particularly meaningful given that I started my life in table tennis learning from him.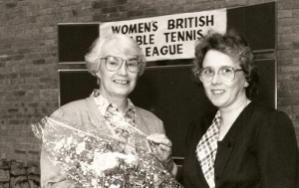 Jose being presented with flowers at the Women's British League with Dot MacFarlane

Do you have any tales to share with us amusing or otherwise? - One of the funniest things that ever happened to me was in Scarborough, Ontario where we lived. I was driving some of the Canadian team players around to some schools to promote table tennis by putting on exhibitions, carrying the table on the roof rack of the car to use it at the different schools. After one exhibition, going up a hill the table sailed off the car floating behind us, fortunately hitting the ground and not the car behind!
But one of the worst times was flying from Ottawa to Newfoundland for a promotion. The small plane got caught in a major storm, rocketing all over the place with thunder and lightning all around us. I said "Goodbye" to my family, but we did arrive safely and I took a taxi through a terrible snow storm to the hotel and straight to the bar!
Once you start thinking about it, other memories come back. This one was in Calcutta in 1975. A lovely photograph out in the sunshine at the hotel, but this championship is the only one, to my knowledge, where rain stopped play! It was a brand new stadium and perhaps not completely finished. During the championships the Monsoon came unexpectedly and flooded the arena and all the walkways around it as well as the streets outside. But the spectators had bought their tickets and would not leave the stadium until play resumed.

Apparently there could have been a riot. They mopped the floors, dried the tables, put planks from the seating areas onto the arena floor and carried on. It was amazing. Travelling back to the hotel by coach, they had to put planks from the bus steps onto the steps of the hotel.

What's your proudest moment? - One major highlight of my involvement in table tennis was Alan receiving his O.B.E. in 1997 for his services to table tennis, but of course, Alan has his own story.

How are you enjoying retirement? - From the 1980's until I had a hip replacement in 2004 I played tennis two or three times a week and I went to Wimbledon every year. Happily I started to play table tennis again for my fitness when we started the 50+ sessions at Ormesby earlier this year. I have been President of the Ormesby Table Tennis Club for some years now. I helped to get the new premises for Ormesby, was involved in starting the successful Disability sessions a couple of years ago and the new 50+ which is proving very popular. As I mentioned earlier, I have also helped

What would you like to see happening with the sport in the future? - What I would like to see happen in the future is equality for women in the sport in England. At the ETTA AGM in 2008 I suggested that the Association should adopt the ITTF position which they took in 2006 and offer an equal prize fund for women for major events. This is now the policy in many countries around the world. I believe that this would be in the best interests of the sport and could create some excellent publicity as well as encouraging more women and girls to take up a sport where they are treated as equals.

And finally........

Table Tennis Talk would like to thank Jose for sharing her amazing story, they don't come nicer or more dedicated than Jose herself. I'm breathless just reading it. If I could achieve in my whole life as much as Jose Ransome achieves in a whole year then I would be truly satisfied!
Interview By: Annie
Author:
TT365 System
via Colebridge Table Tennis Club
Article Published: