The Eddie Lynn Story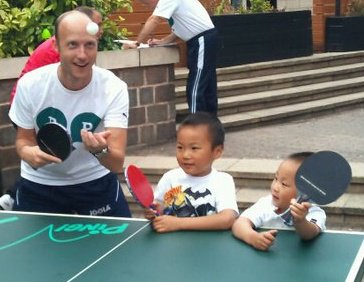 ED Lynn has completed the first 12 months of his attempt to get as many Birmingham youngsters as possible to take up table tennis.
The coach was appointed by the ETTA in conjunction with the Barclays Premier League and Aston Villa as a boost to support several sports, including table tennis at grassroots level.
"There are over 200 youngsters at various schools involved at the moment but this is just the start for me," said Lynn.
"The North Birmingham Two-A-Side League for youngsters is up and running and I will be forming a similar competition in the south of the city in 2012."
The Two-A-Side league is the first of its kind in Birmingham for over 30 years, when the city boasted one of the top schools leagues in the country, producing the likes of Desmond Douglas and Lester and Steve Bertie.
The Birmingham League is sure to benefit in the long run and is already seeing a number of young players taking part in the competition.
"I am hopeful that another PINGBRUM event will take place this year,'' said Lynn.
"I coached at venues all over the city at the Ping event in 2011, although I have to say my enthusiasm was not shared by all."
Lynn has maintained a high standard as a player, despite his very hectic coaching schedule.
He represents league leaders Colebridge Aces in the Premier Division of the Birmingham League, teaming up with Amann Ubhi and Navinder Matharu.
In the Leamington League he has been one of the top players for the Colebridge club for several seasons, while being a regular in the Warwickshire second team during the same period.
His main goal is, however, a one-man mission to boost the sport.
"Every Monday and Thursday I coach at the Hamstead club, and on Friday I coach at Colebridge," said Lynn.
"Many other schools and colleges are visited during the week, I make no distinction where I coach.
"Getting the kids off the streets and into competitive sport is where it starts and ends with me."
Author:
TT365 System
via Colebridge Table Tennis Club
Article Published: