Birmingham Closed - More Detail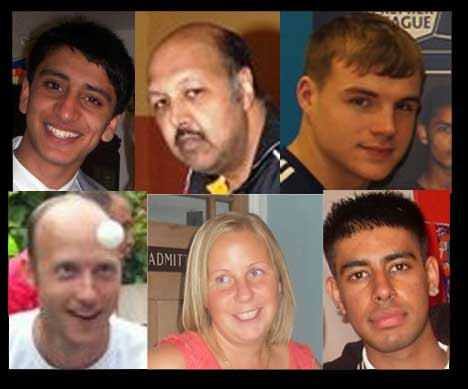 Colebridge Winners , left to right ,top, Amit Ubhi , Mike Browne , Adam Nutland
Bottom , Eddie Lynn , Kate Hughes , Amann Ubhi.
THE Colebridge duo of Adam Nutland and Amann Ubhi produced one of the best men's singles finals in recent history at the Birmingham Closed Championship.
Former England junior and current Worcestershire No.1 Nutland triumphed after five pulsating games, full of lightning rallies, at the Wood Green Centre.
The two teenagers have given a massive boost to the sport in the city and killed the notion that it was becoming an old man's pastime.
Nutland's county colleague Kate Hughes, also from the Shirley-based Colebridge club, retained her women's singles crown in style.
The consistent top-spinner had excellent wins over Jessica Berbick and Helen Turner.
Michael Browne overpowered Steve Bertie (Hamstead) to gain the veterans crown and was also successful in the Over-50 event, where another Hamstead opponent, Colin Greene, gave him a sterner test.
Ed Lynn and Ubhi gave Colebridge more success in the open doubles, while the Nutland/Hughes combination was unstoppable in the mixed doubles.
Amit Ubhi went one better than his brother to lift the junior singles.
Pete Roddy continued his impressive form for Colebridge Chiefs in a 7-3 success over Streetly B in Division One of the Birmingham League.
Stephen Smith and Matt Satchwell produced maximums for Smithereens A in their 9-1 home success over Beaufort Sports C.
Hamstead C again looked to Erroll Walker in their comfortable 7-3 win over Sutton B.
Faizal Ali was unbeaten for Smiths Wood C in their emphatic 8-2 mauling of Bournville A.
Mark Hadley, Mahroof Hussain and Dean Hicks combined well for Colebridge Dinosaurs in a 7-3 home win over Smiths Wood D.
Quinborne A and Smithereens B drew 5-5, with Quins' Dan Ranford a class above the rest.
Streetly C thumped Sutton C 9-1, thanks to Richard Parks and Colin Oakes trebles.
Barry Clarke continued his comeback for Ivy Leaf A with a hat-trick in the 5-5 draw with Bournville B in Division Three.
Author:
TT365 System
via Colebridge Table Tennis Club
Article Published: