Cup Winner Matt Murray Story updated 17-05-14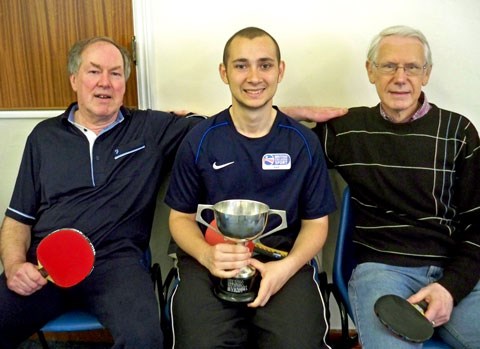 Pegasus G finished off their season in style winning the handicap Doubles Cup by beating Lawford D 6-3 in the Final. Beneath this however lies the story of a very brave young man. In July 2013, Pegasus player Matt Murray was diagnosed with a rare form of juvenile cancer. Since then he has undergone extensive treatments of all types. Throughout he has remained positive and when not in hospital has played table tennis whenever possible. As the knockout rounds approached Matt was in the middle of a 5 week course of radiotherapy but when approached to see if he could play in the semi-final his answer was a definite 'yes' in spite of having radiotherapy earlier in the day. The final, a week later, came a day after he completed his treatment and the team's victory was a very fitting celebration for Matt, pictured here with team mates Stan Flint and Alan Foley. The treatment Matt has received has been amazing but without the funding provided by the Teenage Cancer Trust none of it would have been possible . Two Pegasus players, Matt's Dad Nick Murray and Alastair Woodcock, are taking on a challenge to raise funds for the TCT unit at Addenbrookes Hospital where Matt was treated. They are embarking on a mission to raise as much money as possible for the Trust by completing a self-supported bike ride starting at the Olympic Stadium, East London and finishing at the Stade de France, North Paris from 23rd to the 26th July 2014. If you would like to help support this great cause, please click on the following link:
http://www.justgiving.com/L2P-by-bike-for-Teenage-Cancer-Trust/?utm_source=Sharethis&utm_medium=fundraisingpage&utm_content=L2P-by-bike-for-Teenage-Cancer-Trust&utm_campaign=pfp-email.
JustGiving sends your donation straight to Teenage Cancer Trust and automatically reclaims Gift Aid if you are a UK taxpayer, so your donation is worth even more.
Author:
Steve Noble
via Colchester Table Tennis League
Article Published:
Last Updated: