GT HORKESLEY A WIN LEAVES TITLE RACE IN THE BALANCE!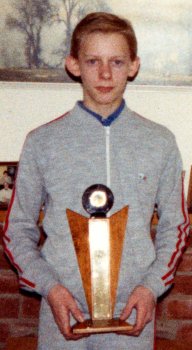 A proud young Lloyd Bennett-Smith - captaining Gt Horkesley C to Promotion?
Gt Horkesley A beat Tollgate A in the battle of the top two teams in Division One of the Colchester & District Table Tennis League that leaves the pair level on points but Tollgate have a match in hand. No player remained unbeaten with all three Horkesley players winning two. Colin Bennett's current form is part of the reason for his sides title challenge and he got his team off to a flying start defeating Greg Green in four sets and also accounted for Colin Stallwood in five. Current Ladies Singles champion Aimee Sparkes had the pleasure of beating then reigning Men's champion Andy Warner also in five ends. Richard Goodhand sealed the win 6-4 as despite having played one game fewer the Holmwood House team have the harder run in. Nigel Hodder did his best to help his club, defeating all three Gt Horkesley players for Tollgate B in a 7-3 defeat for his team. Horkesley also brushed past Pegasus 9-1 as did Tollgate A against Walton A and H20 Rowhedge C. Rowhedge in turn beat Walton A 7-3 and drew with St James 5-5. H20 Rowhedge B are a team on the up as despite only having two players they beat bottom team Walton B 7-3. They did lose at home to Gt Horkesley B 6-4 with Gary Young unbeaten including a five set win over Kevin Gowlett who won two. They bounced back thrashing Tollgate B 10-0, with the previously unbeaten Nigel Hodder failing to score. James Denyer had a notable win over Steve Joslin in four ends as the honours were shared between H20 Rowhedge A and St James A, with Denyer winning three & Joslin and Jermaine Fearon two apiece. Denyer was once again in top form in an 8-2 win over Gt Horkesley B beating Gary Young in four ends who surprisingly went winless. Pegasus A also won 8-2 at home to Walton B who are now relegated with the ever-faithful Ian Whiteside once again untroubled.
Gt Horkesley C have finally moved into the promotion spots in Division Two and still have two games in hand over leaders Walton A who are just two points ahead. Three catch up wins included 7-3 defeats of promotion rivals Tollesbury A and Tollgate C. The consistent Wudong Liu was unbeaten in both matches that sees Tollesbury slip to third two points ahead of Tollgate both having played the same number of games as Walton, who are favourites to join Gt Horkesley C in Division One next season. They beat Lawford A 8-2, St James B and H20 Rowhedge E both 6-4. Mat Watson was undefeated in all three. Josh Sidki was in good form for H20 Rowhedge D where he beat newly crowned Division Two singles winner Patrick Gilbert on his way to a maximum. However, Tollesbury still won 6-4 but were held 5-5 by Pegasus B for whom Glen Laing yet again won his three. Tollgate picked up two further wins, 7-3 at Lawford B (they were 7-0 up!) and 8-2 at home to H20 Rowhedge F with Mike Tracey player-of-the-match beating Chris Brook 18-16 in the final set to secure his maximum. Lawford A still have a mathematical chance of promotion and two 8-2 wins keeps them in the hunt in fifth place. Veteran Graham Mortimer won all six games he played. H20 Rowhedge E have run into a rich vein of form albeit just a bit too late! Peter Simmonds took two POM awards in 9-1 wins over St James C and H20 Rowhedge F. Martin Edwards won three in a closer 6-4 win over Lawford B for whom Peter Freeborough won two. Glen Laing is on a run of twenty straight games without defeat following two more maximums in big wins; 8-2 at St James C and 10-0 at H20 Rowhedge F. This effectively relegates St James and leaves Rowhedge in jeopardy along with their 'F' team one of which will almost certainly go down!
Author:
TT365 System
via Colchester Table Tennis League
Article Published: