FIRST WIN FOR WALTON B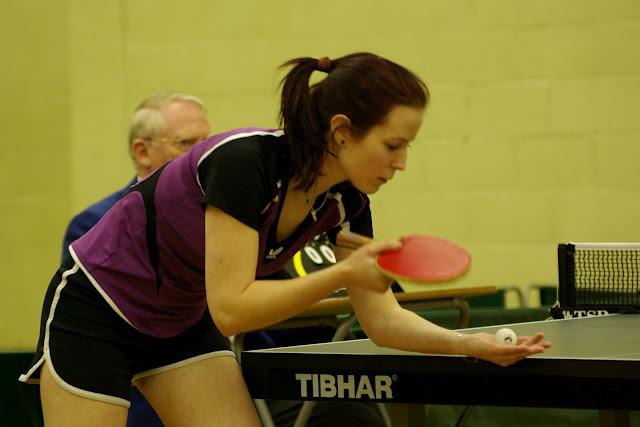 Aimee Sparkes: flawless performance
Walton B recorded their first win in Division One of the Colchester & District Table Tennis League, incredibly with just two players! Mark Gale and David Hall were the pair that swept all before them in a 7-3 win at Gt Horkesley B, albeit without the prolific Gary Young. This however, was not enough to take them off the bottom and the relegation issue is very close with five other teams involved. Two of those enjoyed big wins this week with Tollgate B enjoying a surprise 9-1 success over H20 Rowhedge A. Rowhedge were short of star players Michael Andrews and Steve Joslin and Tollgate were boosted by the inclusion of Andy Warner and Nigel Hodder who both were undefeated. There was another shock in H20 Rowhedge C's 8-2 defeat of Pegasus A as Toby Turner beat 2011 Colchester Men's champion Antony Greenwood in four sets. Gary Cattermole won three for Rowhedge as the teams are now level on points. The Previous week Pegasus suffered a further blow to league leaders Tollgate A who have opened up an eleven point lead over Gt Horkesley A. There were two good wins for Jane Li, assisted by maximums from Greg Green, his ninth of the season and Colin Stallwood in a 9-1 win. Horkesley A subjected their 'B' team to a 7-3 defeat with the defiant Gary Young winning his three for the losers. Aimee Sparkes (pictured) was the star for Gt Horkesley A against title rivals St James A. She was flawless in defeating all three Clacton players including James Denyer in four sets as did Richard Goodhand. It was a good night for ladies as Gill Locke avenged her sons defeat by beating Goodhand also in four as she won two. Nigel Hodder emulated Young's feat in a 7-3 loss for Tollgate B against H20 Rowhedge C the week before.
Walton C have opened up a significant gap of ten points in Division Two following two big wins, 10-0 against St James C and 9-1 over H20 Rowhedge D. The two Paul's; Newbould and Woolnough both were undefeated as were both Kieran Hills for Lawford A and Glen Laing for Pegasus B against Tollgate C. Hills efforts were in vain in a 7-3 defeat whilst Laing's secured a 6-4 win. Despite this defeat Tollgate C are second with third placed Tollesbury A, a point adrift with a game in hand. They had a close shave, winning 6-4 against Lawford B. Patrick Gilbert starred winning his three. St James B promotion aspirations were dented with two 7-3 defeats. John Owen won three for Rowhedge but Martin Edwards just missed out going down in five ends to Andy Vincent who came back from two down to clinch the deciding set 13-11. Gt Horkesley C were the other victors, all six players winning at least one but none undefeated! Seven games went the full five set distance as Horkesley have four games in hand overs leaders Walton C, twenty-four points back. The pair drew 5-5 with Matt Watson undefeated. Pegasus B and H20 Rowhedge F fought out a 5-5 draw with Chris Brook unbeaten. H20 Rowhedge D and F also drew with veteran Brian Spellor undefeated, inflicting a straight sets win over Brook! St James C won only for the second time in fourteen attempts, 6-4 against Lawford B. Ian Fielder won his three as the Lawford team lost two in five days. Josh Sidki was the main protagonist taking the player-of-the-match award with three wins.
There have been a high number of entrants for the tournament this year with eighty-six entries, including over fifty in the Men's Singles! This should mean sixteen groups with all seeds taking part in the groups.
Author:
TT365 System
via Colchester Table Tennis League
Article Published: