Still all to play for after Christmas in Division 2
St James C will be eating turkey for Christmas,
while St James D will be the ones catching it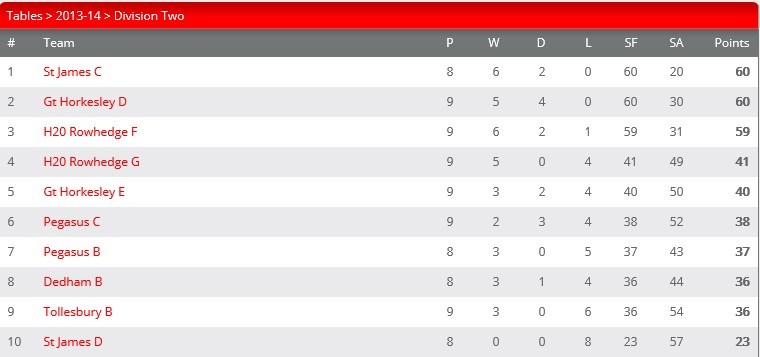 The first half of the season proved to be a very tight affair in Division 2. With only 1 point separating the top 3 teams, the second half looks like it will go down right to the wire. St James C & Gt Horkesley D share the lead with 60 points, but Rowhedge F follow just behind on 59 points. However, St James have a game in hand and could further stretch their lead when played. Down the bottom of the table lies St James C's sister club, St James D. They are currently 13 points adrift of Tollesbury B who are finding life in the division pretty tough. They are joint second from bottom with Dedham B, yet both Dedham and Pegasus B have a game in hand. Only 5 points separate places 4th-9th so everything is still to play for to stay in this strong division. Middle of the pack are Rowhedge G, Gt Horkesley E and Pegasus C. Will these 3 teams be able to use their past experience to challenge the top three? Previous seasons have shown how the 'yo-yo' team of Roger Warren, Hazel Hume, Ian Carter and Dave Jones (Gt Horkesley E) that they cannot be ruled out and it wouldn't be surprising if they tried to make a late surge. Although, as they are quite near the bottom, will nerves take over and be fighting to stay in the division? Only time will tell when the division re-starts after the New Year.
Author:
Tom Lewis
via Colchester Table Tennis League
Article Published:
Last Updated: