GILBERD A ARE A CLASS ACT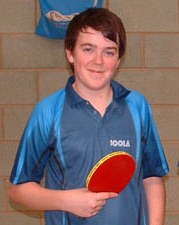 James Denyer: Excellent win over Richard Goodhand
The Gilberd School A team look to be making significant strides to promotion in Division Four of the Colchester and District Table League. Having narrowly missed out last season the teachers have strengthened their squad with the addition of Neil Huatan who is yet to drop a set! This week they moved to the top with a 10-0 victory over two-player Gt Horkesley F. Roger Springett and Nik Baido both also unbeaten. Tollgate D drop to second, two points adrift following their 9-1 win at Pegasus E. Mick Taylor joined Springett with ten wins, the most in the Division, whilst Richard Baxter claimed the player-of-the match. Paul Weston won the village team's only point just pipping Karl Baldwin 12-10 in the fifth end. Gt Horkesley G are third with Pegasus E moving up to fourth after a 9-1 victory at Horkesley's F team. Doug Green and Paul Weston were both undefeated. Lawford E slip down the table as they were beaten 7-3 against Pegasus F, Simon Boyton winning three.
H20 Rowhedge A are the big movers in Division One, up four places to third following back-to-back draws. However, they are still without a win after four matches and in the game of the week drew 5-5 at Tollgate B, another team without a win. Steve Joslin beat Andy Warner in a repeat of last season's Men's final as did Michael Andrews. Keiron Lally won two and teamed up with Warner to win a close doubles against the Chelmsford champions. In their other draw Andrews won three against Walton B. Gt Horkesley A got back to winning ways, 7-3 at St James with Aimee Sparkes recording a fine straight sets win over James Denyer who in turn had an excellent win over the tricky Richard Goodhand.
Tollgate C go top of Division Two despite being held to a 5-5 draw by Lawford A. Holly Stubbings lost her one hundred per cent start to the season as no player won three. Highlight of the match was Paul Tracey's 20-18 fifth set win over George Berry to maintain his team's unbeaten record in the last match of the evening. Walton C are second following an impressive 8-2 win over H20 Rowhedge D. Matt Watson and John Rice continued their good form with three wins apiece. Third placed Gt Horkesley C only needed two players to beat St James C 7-3 thanks to Wudong Liu and Mike Emerson. Glen Laing's best efforts were in vain as H20 Rowhedge F put in a fine team performance to beat Pegasus B 6-4. Chris Brook and Dan Rhodes both won two but it was Colin Powell's 12-10 fifth end win over Clive Forster that sealed the win to move up two places. Honours were even as H20 Rowhedge E and St James B played out a 5-5 draw. Peter Simmonds was the star player beating John Barton in five sets to clinch the tie.
H20 Rowhedge G top Division Three closely followed by Gt Horkesley E who had a resounding 9-1 win over CRGS. Steve Holland and Peter Witton both completed maximums. Jasper Chan made a fruitless return to the League for CRGS but he was soon back to form with his own triple leading his team to their first win of the season, 6-4 at home to Lawford C. Third placed University of Essex went down by the same score line at Tollesbury B with John Moore in top form, undefeated. In the all-Pegasus clash the 'C' team came out 7-3 winners against the 'D' team, Tony Eversden once again winning his three.
Author:
TT365 System
via Colchester Table Tennis League
Article Published: