Chelmsford are North London Region National Junior League Champions
The third round of North London Region National Junior League matches for 2019/20 was held at Ellenborough TTC, Enfield on Saturday 11 January 2020. Having led Division 2 by one point after the first round of matches the A Team had then been promoted to Division 1. As there had been promotion and relegation between the Divisions every team started again with zero points and at the end of Day 2 the A Team had only won one of their three matches, and thus trailed leaders Woodford Wells 1 by eight points and the runners up Cumberland ll Club A by six points.
The A Team's first match on Day 3 was against leaders Woodford Wells 1. This time Harry Buckle beat Alfred Osborne after losing the first two games and squeezed the third game 13-11 to enable him to go on and win the next two games 8 and 3. Similarly Charlie Craig avenged his 3-1 defeat to William Whitehall with a 3-0 win and Aidan Noguchi avenged his previous defeat to Jai Chaudhari with a 11-9 win in the deciding game. A 6-3 win over the leaders. Against Cumberland ll Club A a 9-0 win as their opponents were missing their number one player. A 9-0 win over ElmGreen DTTC left the A Team just three points behind the leaders at the end of the day and all to play for in the final round of matches on 29 February. Harry Buckle 4 out 9, Charlie Craig 5 out of 9, Aidan Noguchi 2 out 9.
The final round of matches was played on Saturday 29 February and both teams knew that the opening match between Chelmsford A and Woodford Wells 1 would go a long way to determining the winner of the First Division. The opening match between Harry and Alfred was almost the complete opposite scoreline to that played in the third round. Harry won the first two games 9 and 3, lost the next two games 5 and 10 and just won the final crucial fifth game 11-8. With Charlie winning his match against William 3-1, he lost the first game, a good start for the Chelmsford team. Aidan had to fight back from 2-1 down to win the decider against Jai11-3. Charlie and Harry then won the next two matches against Alfred and Jai respectively, both 3-1, to make the match score 5-0. With Aidan losing his last two matches, 10, -5, 8, 9 to William and 15, 6, -10, 7 to Alfred, Charlie had to work hard to beat Jai 10, -12, -8, 4, 8. Harry won the final match against William, the only match to be won 3-0 in the match. The Chelmsford team now lead Woodford Wells by two points.
With the ElmGreen team players failing to arrive it meant that the Chelmsford A team would have to play the Cumberland ll Club A first with Woodford Wells to play Cumberland ll Club A afterwards with knowledge of the match score they needed to overtake the Chelmsford score. Both teams claimed nine points from their absent opponents.
Having beaten their opponents 9-0 on Day 3 the Chelmsford team were confident they could get another good win even though their opponents had a totally different team to that of Day 3. Harry needed four games to beat Tommy Lyons and Charlie a 3-0 win over Alex Shuckburgh but Aidan's marathon match with Robert Riechert ended in defeat, -11, 12, -10, 9, 7. The remaining six matches were all won 3-0 and when Charlie won the last game 12-10 for an 8-1 win and a jubilant team knew they were the Division winners because Woodford Wells could not reach their points total. In the event Woodford Wells beat Cumberland ll Club A 9-0 so Chelmsford A won the Division by one point. Harry 6 out of 6, Charlie 6 out of 6, Aidan 3 out of 6.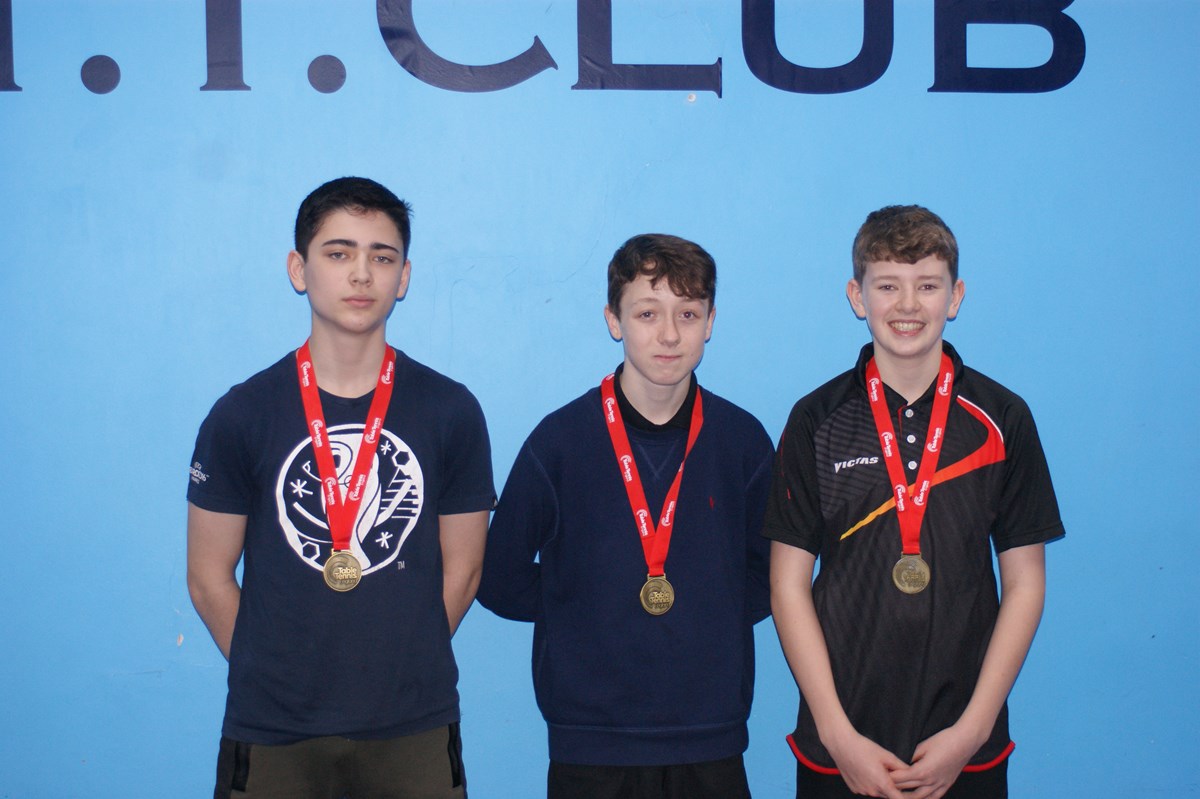 Chelmsford A Team : Aidan Noguchi, Harry Buckle & Charlie Craig

CHELMSFORD B
With the Chelmsford B finishing Runners Up in Division 3 on Day 1 they were not affected by promotion or relegation other than Twickenham Brunswick A were relegated from Division 2 and Ellenborough B were promoted from Division 4. Nyree Marsh and Melinda Abraham Victor played again and were joined by Joshua Bickles whereas Joachin Mapes played in the first round. After Round 2 Chelmsford led the Division by five points
The B Team's first match on Day 3 was against BATTS. Joachin Mapes lost to Ali Graham in the opening match 12-10 in the deciding game and Nyree Marsh beat Cosmo Melvin 3-1 on the other table. Melinda lost to Tobey Sage 3-0 but she won her other two matches against Cosmo (3-1) and Ali Graham (10-12, 11-8, 11-8, 12-10). Nyree also beat Ali 3-1 but she lost to Tobey in the deciding fifth game. Joachin beat Tobey 3-1 and also beat Cosmo after losing the first two games. A 6-3 win. Ellenborough B turned out a much stronger team this time. Joachin and Nyree won their opening matches with Seth Mayuga and Aaron Fernandez respectively but Ellenborough won the remaining seven matches. Their final match was against Twickenham Brunswick A. Having lost the first three matches they won five of the next six matches for a narrow win. Joachin won two, both 3-1, Nyree's two wins were both won 11-9 in the deciding game and Malinda over Luca Chan, also 11-9, in that decider. Chelmsford B are now four points behind new leaders Ellenborough B. Joachin 5 out of 9, Nyree 5 out of 9, Malinda 3 out of 9.
The final round of matches were played on Saturday 29 February, Joshua Bickles was originally selected to play, but then decided to play in a London Tournament and also Melinda became unavailable as well. Alesha Ellis-Austin played with a view to playing in the National Leagues at Ellenborough next season. With the loss of Joshua and Melinda it would be difficult to claw back the deficit from Ellenborough.
Their first opponents were BATTS. Joachin and Nyree both won their opening matches, Joachin coming back from a 2-1 deficit against Xander Petch, he also beat Jack Fletcher 3-0 but lost to Tobey Sage in the decider after leading 2-0. Nyree won 12-10 in her deciding match with Toby. There was hope that Alesha could get a win against Jack but she lost the deciding game 11-6. A 5-4 defeat. Leaders Ellenborough B were the next opponents. Joachin beat Joe Ross -10, 8, 14, -9, 7 and Nyree also beat Joe in that decider 11-6 as well as a 3-0 win over Jackson McFarlane. Alesha also took Jackson to a deciding game but lost that game 11-4. A 6-3 defeat. Their final match of the day was against Twickenham Brunswick A who only had two players. Joachin and Nyree both won their matches and with the three concessions a 7-2 win which enabled the team to finish Runners Up. Joachin 5 out of 8, Nyree 6 out of 8, Alesha 0 out 8.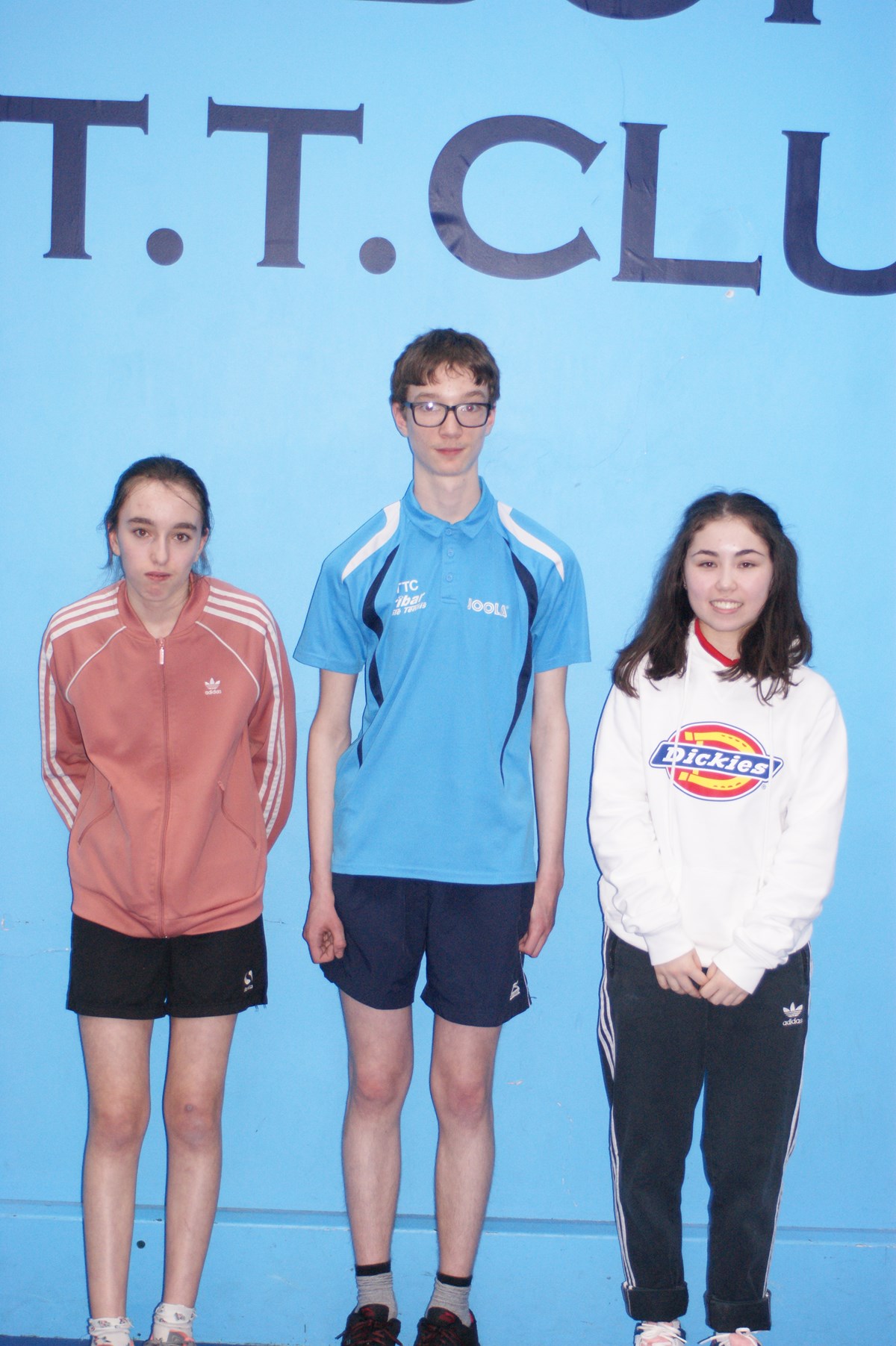 Chelmsford B Team : Alesha Ellis-Austin, Joachin Mapes & Nyree Marsh
Arthur C Clark
Chelmsford Junior Match Secretary
Author:
David Porter
via Chelmsford Table Tennis League
Article Published:
Last Updated: