CLOSED TOURNAMENT – SUNDAY 29TH JANUARY 2017
Lewis Ewers


Paul Hillier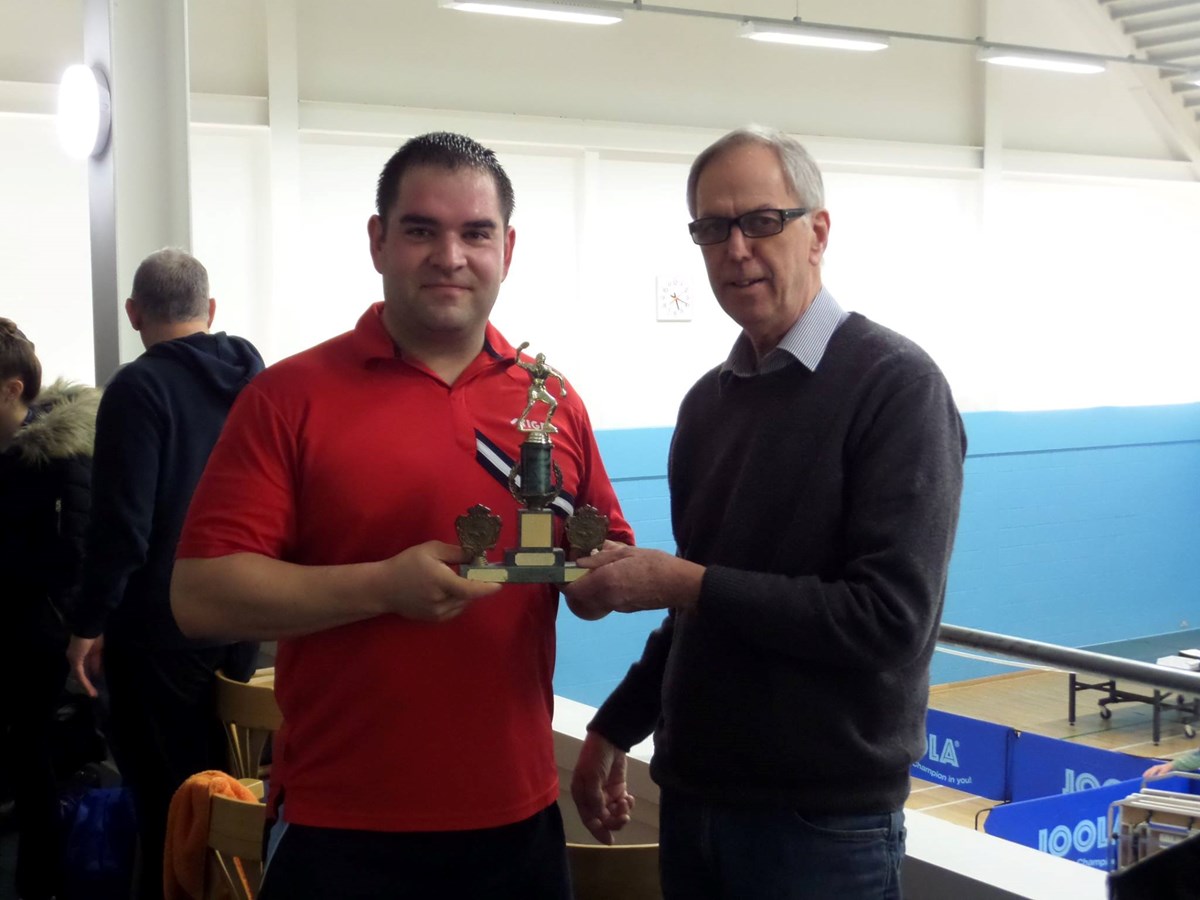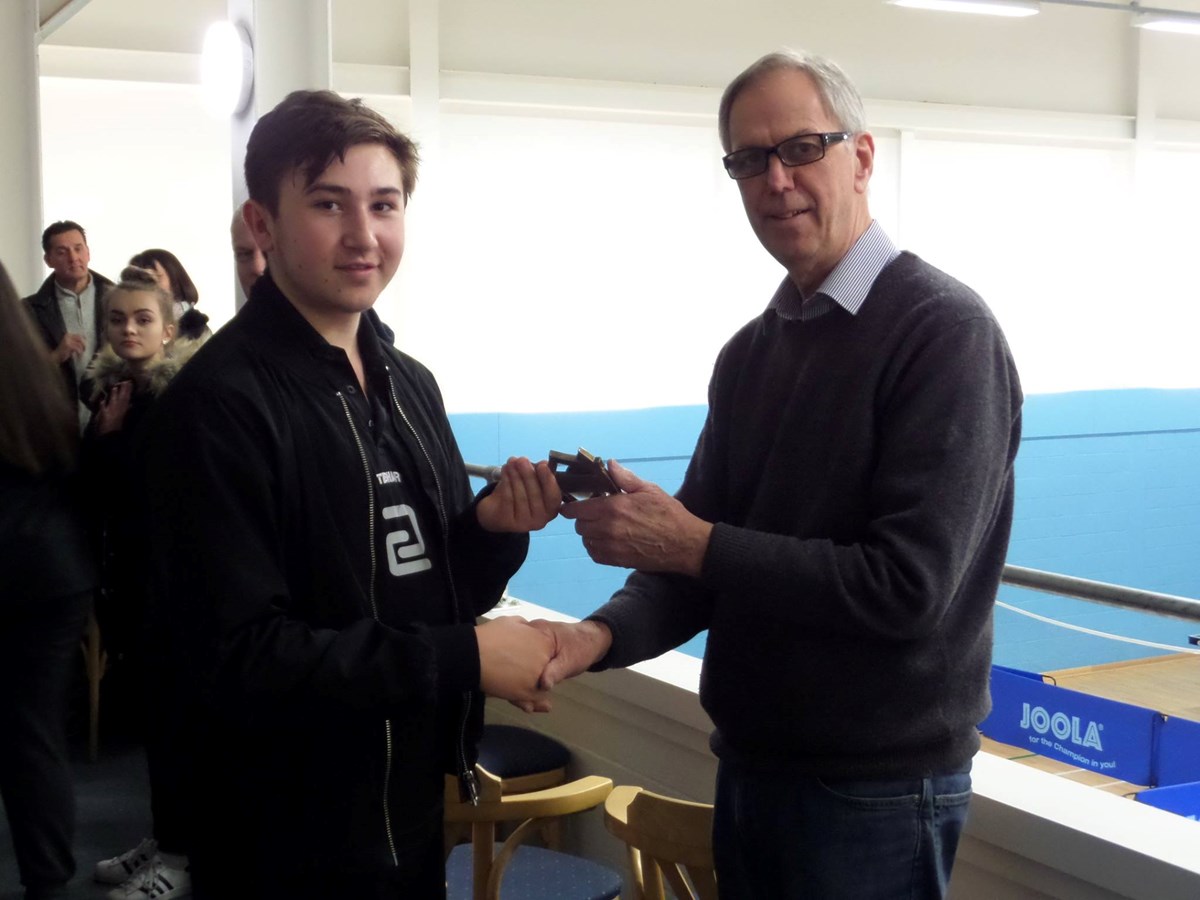 Zach Martillo

Play got underway early on Sunday morning on seven tables at the Fulbourn Sports Centre with the Open Singles groups.
There were a number of interesting groups with the seeded players taking their chances with some useful opponents, with just the group winner moving forward to the next stage of the event.
Zach Martillo became the first seeded casualty, losing out to Impington's Lewis Ewers.
Top seed Danny Fielding dropped the second leg, to Tom Lodziak but was otherwise untroubled.
Shaun Murray had a scare, coming back from 2-1 down against Hugo Brown to win the final two legs, and win his group. Haverhill's Georgina Lister extended Steven Gray to four legs, but he also secured his place in the quarter final. Ivaylo Kostadinov didn't drop a leg in group 5, as he made his way to a last eight tie against Loic LeFolgoc.
In the quarters, Steven Gray progressed to the Semi-finals defeating Shaun Murray in straight games.
Paul Hillier overcame Lewis Ewers in four legs and Ivaylo Kostadinov only needed three games against Loic LeFolgoc.
Paul Hillier took on top seed Dan Fielding in the first semi. Paul never let Daniel settle and took the match 3-1.
Ivaylo Kostadinov cruised through the first two legs against Steven Gray in the other semi, before winning a close third leg 15-13.
Paul Hillier from St Ives took the first leg of the final, but Soham's Ivaylo Kostadinov struck back, as his powerful game came to the fore. Ivaylo clinched a nervy third game 11-9, but Paul hit back to square the match 11-6, and set up the final leg decider. Ivaylo changed ends 5-2 ahead, and managed to maintain the points advantage to win 11-8.
In the Ladies Singles, the 2016 winner Georgina Lister, lost to beaten finalist Carrie Cope in the group, to set up a semi-final with Becky Chan. Becky proved too consistent and won three straight.
Carrie Cope took the first two legs against Emily Brown, before Emily hit back to take the next two. Carrie led 9-6 in the fifth, but Emily took the next 5 points to reach the final.
After a close first leg the final between Becky Chan and Emily Brown, Becky's consistency took over to win three straight.
Steven Gray and Loic LeFolgoc took the first two games of the Mens Doubles Final, but the St Neots pairing of Daniel Fielding and Shaun Murray halved the deficit, winning the third, but Steven and Loic held their nerve in the fourth to win 11-9.
The Handicap Singles was won by Zeeshan Feroz, from Cambridge Parkside (+34) over Wayne Stevens (+32) in a close final 42-40. On his way, he'd overcome Danny Fielding and Tom Lodziak.
St Ives' Jack Heyes had a comfortable straight games win over Tyoma Timofeey in the Mixed Cadets Singles final.
In the Quarter Final of the Mixed Doubles, Tom Lodziak and Nilanjana Datta ousted the seeded pair of Zach Martillo and Georgina Lister.
Last season's winners Paul Hillier and Carrie Cope were involved in a tight Semi-final, against Lewis Ewers and Helen Arnold. After sharing the first four legs, Ewers and Arnold just sneaked the fifth 11-9.
The final between Lewis and Helen, and Daniel and Emily saw Lewis and Helen lose a 9-6 lead to go down 9-11.
They clawed the way back to clinch the second leg to win at 13-11, but went down 9-11, 8-11 in the next two as Daniel and Emily emerged as winners.
Paul Hillier's excellent day continued as he was victorious in the Veterans Singles, with a close three game win over Carrie Cope.
Newcomer to the tournament, Lewis Ewers from Impington proved too strong in the Restricted Singles for Peters Zivtins.
In the final of the Drawn Doubles Steven Gray and Sylvia Rehakova took four legs to get the better of Marc Meunier and Phil Morris.
Zach Martillo claimed the Junior Singles title after a close first leg with Georgina Lister to win in three legs.
Open Singles
Ivaylo Kostadinov bt Paul Hillier 9-11, 11-8, 11-9, 6-11,11-8
Ladies Singles
Becky Chan bt Emily Brown 11-8, 11-8, 11-5
Mens Doubles
Steven Gray / Loic LeFolgoc bt Daniel Fielding / Shaun Murray 11-9, 12-10, 6-11, 11-9
Ladies Doubles
Helen Arnold / Carrie Cope - unopposed
Mixed Doubles
Daniel Fielding / Emily Brown bt Lewis Ewers /Helen Arnold
11-9, 11-13, 11-9, 11-8
Veterans Singles
Paul Hillier bt Carrie Cope 11-6, 12-10, 12-10
Restricted Singles
Lewis Ewers bt Peters Zivtins 11-5, 11-5, 11-8
Mixed Cadets
Jack Heyes bt Tyoma Timofeey 11-3, 11-9, 11-7
Handicap Singles
Zeeshan Feroz (+34) bt Wayne Stevens (+32) 42-40
Drawn Doubles
Steven Gray / Sylvia Rehakova bt Marc Meunier / Phil Morris
8-11, 11-6, 11-7,11-6
Junior Open Singles
Zach Martillo bt Georgina Lister 11-9, 11-5, 11-4
Cambridge & District Table Tennis League Closed Tournament.
An interesting day's table tennis, with new winners of both the Open Singles and the Ladies Singles.
For a few seasons, Ivaylo Kostadinov has always been there or thereabouts at this this tournament, and Becky Chan won the ladies event at her first attempt. In fact, none of the four finalists have ever reached the final before. Congratulations to both.
The Open Singles was probably one of the most evenly contested for years. There were close matches in many groups. Paul Hillier had an outstanding tournament, winning the Veterans Singles and being runner up in the Open Singles, having knocked out top seed Daniel Fielding. The number of matches may have taken their toll in the end, but there was some fine attacking table tennis throughout the final.
In the Ladies Singles, both of last season's finalists Georgina Lister and Carrie Cope were eliminated at the Semi-final stage, as Becky Chan and Emily Brown fought their way through to the final.
Emily recovered from two legs down in her semi with Carrie, to win the next two, but found herself 9-6 down in the final leg, before taking five consecutive points to reach the final.
However in the final, Emily found that Becky's consistency and quality of shot was too good on the day.
Well done to all of the winners, and players that played in a great spirit, and thanks to everyone that took their turn to umpire, or volunteered to umpire.
Keith Richardson and Bob Pettit did a fantastic job running the control table and keeping games going all day.
Thanks to Brian Freer for collating all of the paperwork prior to the event, to Danny Bates and Alan Spackman for their hard work finding missing players and getting them to the table for their matches.
Finally, thanks to Carl Woolf and everyone else that helped set up and take down the tables, chairs etc.
Last Updated: