AVON VETTS REPORT
OCTOBER 2017
After gaining promotion from Division 1 last season, where the team went unbeaten, the side were to grace the Premier Division for the first time in over twenty years. Gary Baldwin was a 'young' Vett back then and he is still part of the team now. Alongside him were Martin Gunn, Dave Reeves and Michele Reeves at Ashford TTC near Heathrow for the first three of seven matches.
Avon 3 Yorkshire 7
It only took one game for Avon to produce the first upset of the weekend as Dave overcame Chris Clinton 11-9 in the fifth set in an entertaining battle. All three Yorkshire men are ranked in the top 35 in the country and Darren Lindley and Simon Pugh won their opening singles to make the score 2-1. A close five set win for Dave and Miche in the first mixed doubles put Avon back level, but the next game proved pivotal. Dave had his third five setter of the morning and this time Darren edged past him 15-13 in the decider. Miche levelled the scores once again when she determindely outfought Helen Shields in five. With the match score at 3-3, Yorkshire produced some great table tennis to win the mens doubles, two mens singles and mixed doubles. Half the matches went to a fifth end which showed the team were competitive at this level.
Avon 6 Dorset 4
A local derby was next up. This match was already a 'must win' for both counties in the quest to avoid relegation and the close matches continued with five more games going to a deciding set. Martin and Tony Clayton played out a quality opener and after four close ends it was too tight to call a winner. That was until Martin raced into a 7-0 lead in the fifth set and didn't look back. After Gary lost out to John Robinson, Dave restored the advantage with a close five set win over Dorset No.1 Mark Butler. Dave and Miche continued their mixed doubles success, this time over Tony and Sanja Clements. The 3-1 lead was shortlived as Tony got the better of Gary and Sanja defeated Miche so the team was at 3-3 again. The drama continued as Dave and Martin found themselves 2-0 down aganist Tony and John before staging a comeback to win in five, and then with Dave at 2-0 up in the next game against John Robinson things were looking good. John's improved consistency was matched by Dave which meant for many long points and it looked as though John was going to tire Dave out when he won the next two games and changed ends at 5-2 up in the decider. Dave's mix of defence and attack turned the game once again and he came through 11-9. Moments later Martin was 2-0 down to Mark Butler before staging his own superb comeback, also winning 11-9 in the fifth to seal the match win. A mixed doubles defeat for Gary and Miche didn't dampen the teams spirits.
Avon 3 Notts 7
The next day saw the team take on title favourites Notts, who had cruised through their first two matches. All three Notts men - Mark Short, Jason Ramage and Lee Neil are ranked in the top 15, and they ran into a quick 3-0 lead before Martin and Miche produced a brilliant mixed doubles win to defeat Mark and Sarah Short. At 2-1 and 10-8 up it looked straightforward but a losing run of eleven points left them 7-0 down in the fifth set. A stunning fightback followed to turn the game on it's head again and they won 11-9. Gary lost out to Jason, but Miche continued her good form and played her best match of the weekend to defeat Sarah in four close sets. At 4-2 down a draw was still possible but a defeat in the men's doubles and a loss from Dave against Lee Neil meant the match was lost. However, Martin took on Mark Short in game nine and produced the win of the weekend. After losing the first end Martin mixed powerful winners with deft blocking, touch and defence to leave Mark with no answer in a stunning four set win.
The team have four matches to play against Kent, Leicestershire, Northumberland and Warwickshire in January at Draycott near Derby.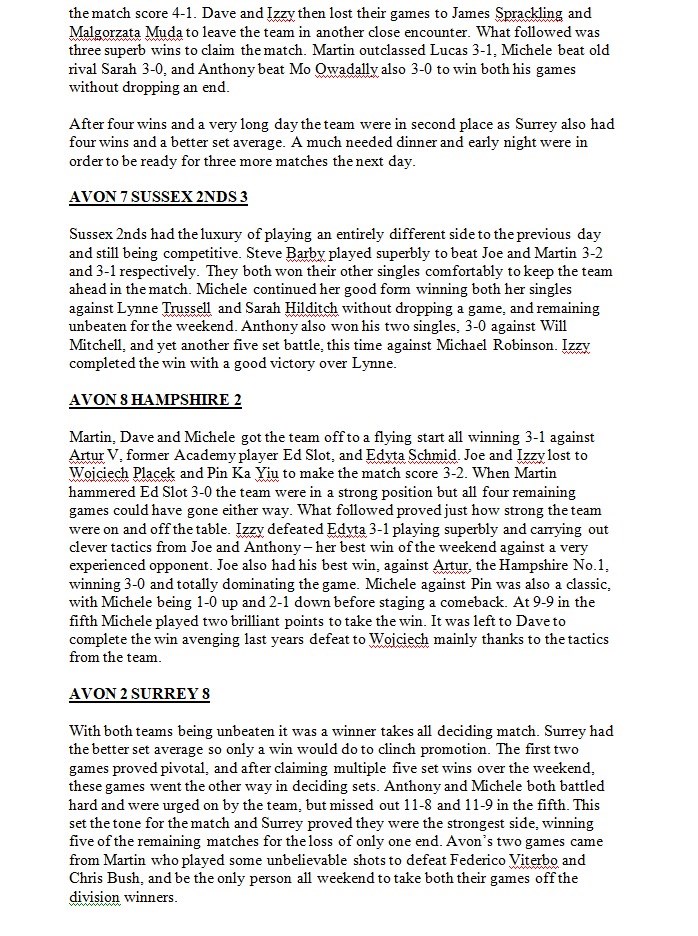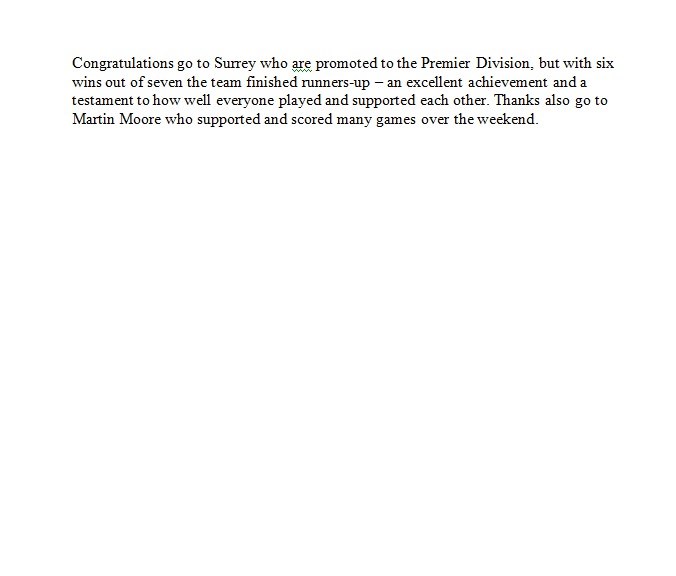 Last Updated: