Weston League table tennis double for Portishead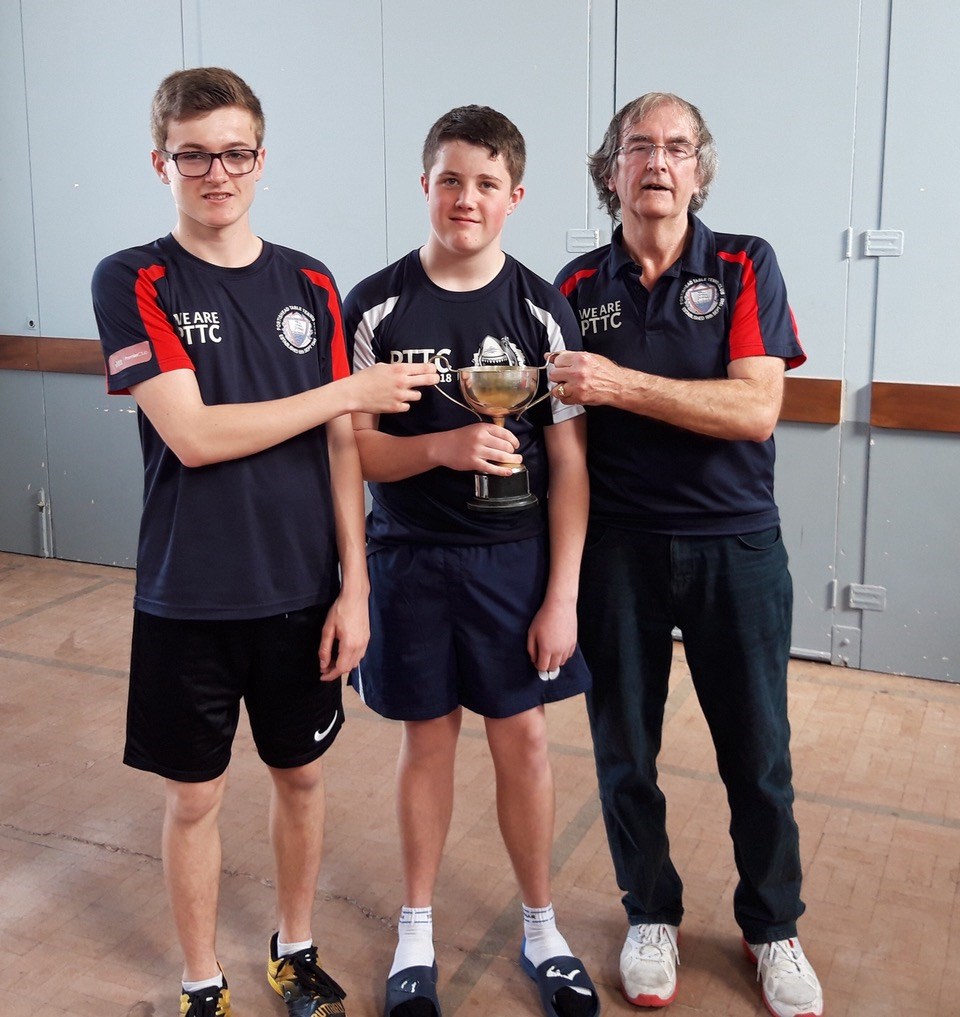 Portishead Sharks have completed a Weston-super-Mare table tennis league and cup double.
The team of Jake Tucker, Jack Jenkins and Ray Jenkins held off a strong challenge from the N&B Panthers to clinch the Archdale Cup – the Weston-super-Mare League's premier handicap tournament.
The Sharks, which also included Derek Connop and enjoyed back-up performances from Maria Hayes, Zoltan Gal and Milan Gal, had earlier in the month clinched the Division 1 title.
Portishead general secretary, Steve Knight, said: "This was a fantastic performance from everyone involved. The Sharks dedicated their season to team-mate Deon Riley, who sadly passed away last summer while playing for the club. It was a magnificent tribute to him."
The success comes just weeks after Portishead was named as Table Tennis England's Club of the Year.
Photo: (from left) Jack Jenkins, Jake Tucker and Ray Jenkins show off the Archdale Cup.

Portishead is a Table Tennis England Premier Club. It was established in 1946.
It has around 60 members of all ages – the youngest is 10 and the oldest in his 80s.
The club encourages members of all ages and ability ranges. New members are always welcome.
The club plays matches at the Portishead Lake Grounds and at Walton Hall. It also has regular training nights at Gordano School.
It currently has 14 adult teams and four junior teams playing in the British League, the Bristol and District League, The Weston-Super-Mare League, the National Junior League, and the Bristol Junior League.
For more information see: https://www.tabletennis365.com/Portishead or contact:
Stephen Knight
General Secretary, Portishead Table Tennis Club
01275 871925
steve@knighttrain.co.uk
Author:
Jos Kelly
via Somerset County Table Tennis Association
Article Published:
Last Updated: