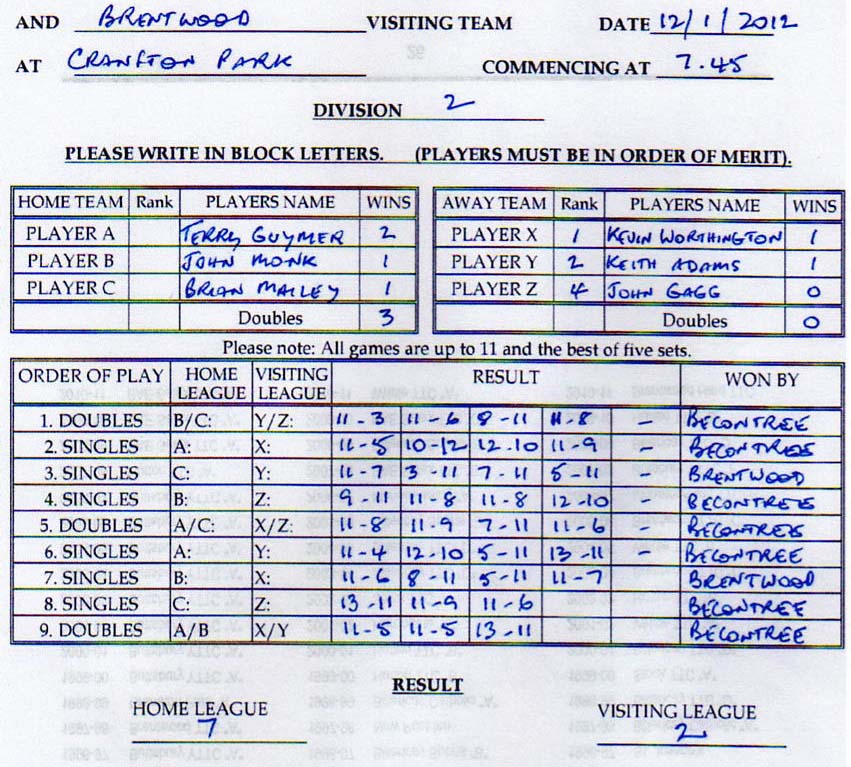 Not the result Captain Dave Carter was looking for despite fielding a very strong team - the home side fielded an even stronger side and with the match producing an outstanding array of attacking and counter attacking table tennis it was no surprise that none of the ties went to a fifth end although seven of them did get to a fourth end.
*****************************************************************
A fine start for the Brentwood Veterans "A" team with a 5 - 4
win over Burnham "B"
Dave Carter was able to call on Keith Adams for his first veterans appearance for Brentwood and he responded by winning both singles and also a share in two doubles victories which coupled with a fine five end win for Dave Carter over Ev Lucas was just enough to give the home side a 5 - 4 victory. The away side was made up of Eric Green, Babul McLeod and Ev Lucas who all picked up a singles win and a doubles point for McLeod & Lucas over John Parodi and Carter. But a great start for both of the Brentwood Veterans teams.
******************************************************************
A top start for the Brentwood Veterans "B" team with a 7 - 2 win over Harlow "B"
and another 7 - 2 away win over Southend.
Followed up with a 7 - 2 away win at Southend with Matthew Brown and Sue Hickman unbeaten and Lindsay Phelps picking up a vital singles win and playing her part in two doubles victories. The match started well with Sue/Lindsey winning the first doubles - followed by Matthew defeating Chris Crooks - Sue then defeated David Darno for a sound 3 - 0 lead - Mike Worship got the better of Lindsey in four but Brentwood took the middle doubles and the next three singles before losing the final doubles for an excellent second away win.
Matthew Brown, Robbie Burton and Sue Hickman travelled to Harlow for their first Division Four Inter League match and returned with a comfortable 7 - 2 victory with Brown and Burton unbeaten with 2 wins each and Hickman collecting one win being beaten by Harlow's number two Alan Hare - Harlow got off to a flier by winning the first doubles but apart from the solitary singles win for Hare that was all they could muster on the day.
***********************************************************************************************************************
Last Updated: