Minutes of the BTTL Committee meeting held at 7.30pm on 2nd March 2018 at the Beaumont Arms, Ladybridge.

Present: Messrs. Barker, Caswell, Chauhan, Rothwell, D Scowcroft (in the chair) & Mrs Barker.

Apologies for absence: Messrs. Tatlock, J Scowcroft & Mrs Scowcroft.

Peter McCormick had attended and was welcomed and co-opted onto the Committee.

Minutes of the last meeting: These had been circulated and were agreed.

Matters Arising: D*** A****** of H***** B had rang on 21st December. His players were asking about the increased points given to Cob***. He or they pointed out that the Cob*** match was an away match to Far****** SC A. He said that most teams don't do that well away to F******** as a venue (Points: 24, 9, 11, 18, &18; Average 16.) So is not 22 a little bit generous?
This was discussed and it was mentioned that this way of looking at things assumed that every team was of the same ability. The General Secretary produced a graph of the above results, but plotted the points against the teams total results at the half way point of the season. An excel trend line shows that with Cob*** who were on 239 at the turnaround, getting 22, was not excessive, but just about right.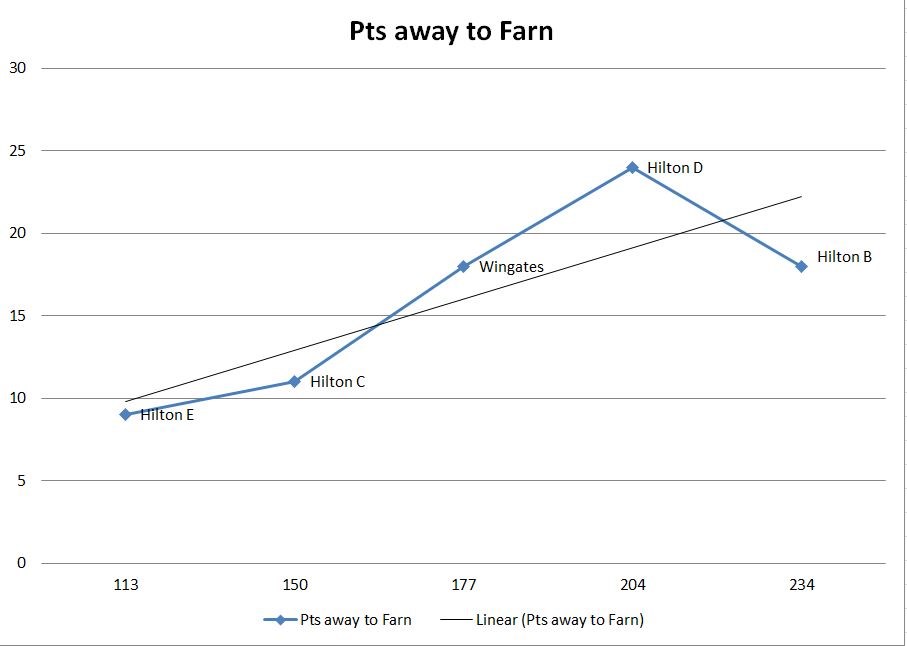 Also in the return fixture, Cob*** had won 21-14. That was with Farnworth's best player, J*** H********* playing who would not have been playing in the first match of the season. The Committee were satisfied they had come to the right decision. A copy of the minutes would be sent to Dave Andrews.

Paul Tatlock had looked at an online card that the General Secretary had produced which calculated the results as you went along and then you could then submit the card. He had also since produced a simplified one that just did calculations only. One person had tried it twice in practice. The only problem is if using it in a match you would have to keep your phone online all the time or risk losing your inputted results. The Match Secretary would investigate an alternative Excel sheet method that you could download to your phone.

Correspondence: None.

General Secretary's Report: We are reminded that we need a guest presenter for finals & presentation evening on 23rd April. One name was put forward and the Match Secretary would follow up. Special prize nominations are needed for the next meeting. Also we will need a small group to choose the trophies on a Saturday in March. Unavailability dates were given by some.

Match Secretary's Report: Some matches had had to be postponed because of the bad weather which is one of the valid reasons for postponement. It was hoped that these would be completed within the four week time slot allowed, but the Committee would not have a problem if any overlapped into Cup semi-finals week.

Treasurer's Report: Bank Account £5,050 and £1,078 in Paypal. The handbook fees and Lancashire fees had been paid but we did not appear to have been invoiced for the Inter-League fees as yet. Invoices totalling £370 are ready to be issued for the adverts and sponsor.

Inter-league Secretary's Report: None

Tournament Secretary's Report: We would need people to help out but would discuss at the next meeting.

AOB: Kirit Chauhan discussed the Cup Handicap system. Although the handicap is based on the position of the two teams in the tables over the season a lot depended on the players who were available or chosen on the night. Bury had a system where the individual players themselves were subject to a handicap but it was not known how this worked precisely. It did, however, give close results. The General Secretary would make enquiries.
We need to sort out the Paypal fees for the Closed Championships application so that the value added was from all the competitions entered and not each individual one. We had to refund some last year.
It was asked if we could not have some form of refreshments on sale on finals & presentation night to make it more of a social evening. It was said that we had tried this in the past, but in recent years we had gone for finishing at a reasonable time instead. The General Secretary said that he had a contact for someone who delivers hot pasties and peas on the night. They had been used in the Tennis League and at his church. If we charged £2 for each one, we could cover the cost. We would pursue this line of action. It was also said that the Bury League used a social club in Elton Vale for their finals & presentation night and that was successful. The Chairman would make enquiries with a view for the following season. The meeting closed at 8.15pm

Date of next meeting: Early April.
Last Updated: