Callum the Camel is born!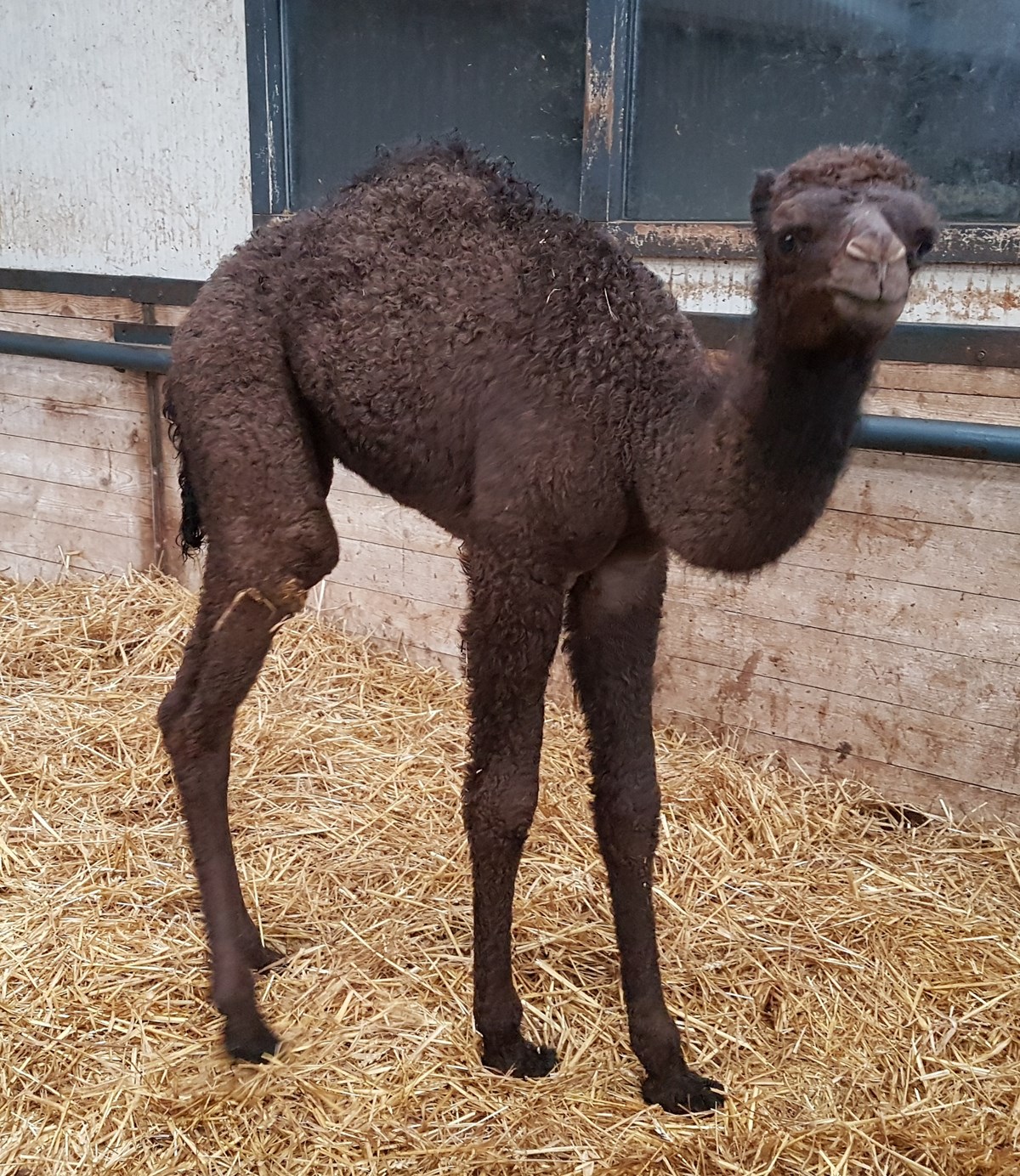 We can now add to our list of honorary club members "Callum the Camel", the recent "love child" of Callum Scott following the recent exchange visit to Schijndel in October 2016. Callum has become a "father" for the first time, and we wish him and his young son all the best for the future, even though they are likely to be apart for the rest of their lives. The attached picture is of our newest and youngest club members and although he is only six weeks old he bears a striking resemblance to his dad!!
He is currently living a life of luxury on his camel farm, situated in the Netherlands - Kamelenmelkerij \Smits
New Recruit for the 'F' Team
Just when it seemed that our 'F' team were destined to play the rest of the season with only two players, Gill Wills and Ethan Morgan, and ruin their chances of achieving a respectable final position in the 2nd Division, along comes Kamil Szuchalski, our newest member.

Kamil is a great prospect and will surely earn a place for himself in one of next season's 1st Division teams. In the mean time along with Gill and Ethan his job is to ensure that the 'F' team reach at least third in the Division at the end of the season, although second is not beyond them.

Therefore, when you meet Kamil for the first time please give him a warm Millennium club welcome, thank you.
Congratulations to Stuart 'Wolfy' Smith!
CONGRATULATIONS to Stuart "Woolfy" Smith and his wife Julie, who have just been blessed with the arrival of a healthy 8lbs 4oz baby girl, Ellie May. As you would imagine they are over the moon and knowing "Woolfy" and his missus as we do, they are going to make the best of parents and we wish them good luck and good health for the future!
Club President Robin Aston receives award
Our esteemed club President, Robin Aston, has won the 'Unsung Hero' award at the Oxfordshire Sports Awards ceremony held on Friday 27th Jan 2017. The award is in recognition of the huge contribution Robin has made to table tennis over the past 37 years, including of course the construction of many ingenious 'coaching aids' that can sometimes be seen at our Friday night coaching sessions! Congratulations to Robin from everyone at MTTC!
Here is a note from Robin on receiving the award:
"I wish to record my sincere thanks to all concerned, especially my colleagues on the BDTTA Management Committee for nominating me in the Unsung Hero -2016 category at this year's Oxfordshire Sports Awards at the Kassam Stadium last Friday evening. It was organised by Oxfordshire Sport & Physical Activity, supported by BBC Oxford and the Oxford Mail.
The event as a whole and particularly being presented with the winner's trophy was a fantastic experience which will be a treasured memory for the rest of my life.
On the night we fielded twenty table tennis friends with wives including members of my own family, and we enjoyed every moment from start to finish.
Photos from the Schijndel visit:
1.A gift to out hosts of a 2. A gift to our hosts of a Bulldog 3. Callum Scott photo with PSV first Meerkat Statue Money box tin team squad
4. MTTC team photo 5) Robin with Linda our guide & 6) Wil van der Hostad's grave where Robin the camel! we all laid a rose
A note from our chairman regarding some sad news
On the evening of the club's exchange visit to Schijndel last Tuesday I received a telephone call from Matt Bragg, the son of our founding President, Bobby Bragg, informing me that his father had passed away that afternoon. Bobby had been fighting for the last two years a battle with cancer with the fortitude and good humour that only he could sustain.
He will be sorely missed by his loving family, as well as his many friends both in the world of show business and the members of his favourite table tennis club.
His contribution to the club's existence and success has been immense, when in the early days he donated a significant sum of money towards the much needed funds we required in order to set up the club with essential equipment. He supported us by attending any fund raising functions we arranged and as many AGM's as he could in spite of a very busy working schedule. I remember the time he took a party of Millennium members and our Dutch friends to view a recording session of a popular comedy show at the Teddington TV studios. As warm-up man for the show he arranged for us to have the best seats in the house - a wonderful experience and enjoyed by everyone fortunate to be there.
His funeral will be held at the Banbury Crematorium on Friday 11th November at 3.00pm followed by refreshments at the Elephant and Castle in Bloxham.
Robin Aston
Learn to play table tennis at the Millennium Table Tennis Club!
See flyer here for details of the current coaching/practice sessions at the club. Come and join us all are welcome!
October 2016 - New Club Strip has arrived
After much hard work and anticipation the all new Millennium TTC Club Strip has arrived! The 'F' team were the first to get together and have a club photo so here you go:
Watch this space for more team photos as they appear!
September 2016 Club Newsletter
See newsletter here for all the latest news from the Millennium Table Tennis Club.
News update 11/07/2016
Two of our aspiring youngsters, Cameron Aris and Toby Oliver received the Schools Community Leadership Award in recognition of their efforts for setting up the table tennis club at Chenderit school. They were presented with the award by their local MP at a celebration evening on 8th July at Chenderit School.
Well done and congratulations from everyone at MTTC!
Bribar Table Tennis Equipment
Don't forget that the Club is an official agent for Bribar Table Tennis, entitling us to preferential discounts of between 20% and 30% off standard equipment list prices; not to be sneezed at in these testing times. There are always plenty of special offers from Bribar too; even though they are already heavily-discounted we still obtain further reductions, normally of the order of another 5%.
We have a few catalogues from last season kicking around so if you are keen to upgrade your bat, buy some new clothing or just investigate what is available, please get in touch with Robin Aston, or visit the Bribar website. Remember, to get the best discounts please order through the Club, as dealing directly with Bribar will not get you the best discount; you have been warned!
Last Updated: